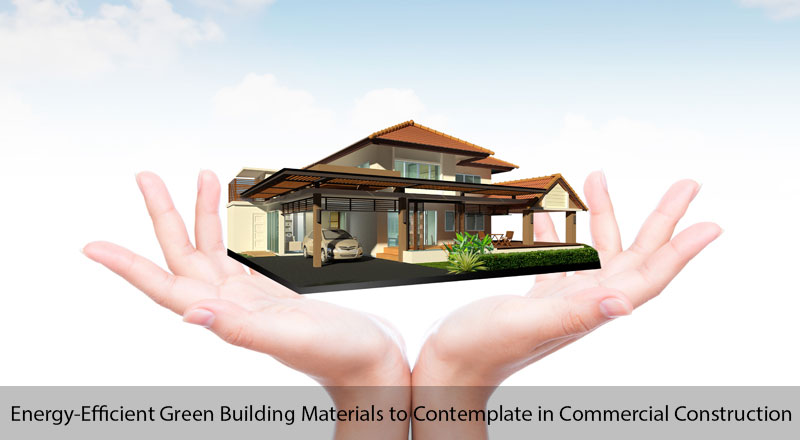 Well, concrete is one building material that pretty much shapes the skyline of the cities today! Whether it is an apartment building or home, viaduct or bridge – the importance of this omnipresent material in today's modern and civilized life is unquestionable. In the case of the industrial and commercial building construction, no other material is considered to be a peer to this ubiquitous material till date. However, this huge demand of concrete does not change the crummy secret about it! During the process of concrete material production, a colossal amount of CO2(carbon dioxide) is emitted which is extremely abominable for the environment. So, as an alternative here is a list of 5 top energy-efficient green building materials that you can contemplate to use in any commercial construction site.
Sustainable Concrete – Nowadays, most of the infrastructure companies are paying more attention to use the sustainable concrete that is both energy-efficient and a deserving alternative to the traditional concrete. This product can diminish the amount of carbon dioxide emission in a remarkable manner. Recycled materials like crushed glass, slag or wood chips are used to make this type of sustainable concrete.
Solar Tiles – Usually, tiles are used to protect a construction from the toxic elements absorbed from the sun. The traditional roofing tiles are formed in energy exhaustive methods. Hence, nowadays, many organizations are paying more attention to develop solar tiles. These solar tiles are entirely integrated within the building that helps to generate power for the dwellers and to protect the building from any kind of weather.
Wool Bricks – The invention of wool bricks has brought a remarkable and revolutionary change in the field of commercial or industrial construction. These non-toxic, sustainable bricks are made of using ample amount of local materials like wool, natural polymer that mechanically enhances the strength of the bricks. Some of the alluring features of such bricks are as follows.

It is resistant to wet and cold weather
37% firmer and stronger that other bricks
It diminishes embodied energy

Paper Insulation – This product can be considered as a good alternative to the chemical foams. It is made of recycled cardboard and newspapers. Paper insulation can be used for filling any crack, buffeting into the cavity walls. Using this, you can create a draft-free space. Some of the useful features of paper insulation is:

Fire retardant
Insect resistant

To make this product like this, natural materials like calcium carbonate, borax and boric acid are used.

Triple-Glazed Windows – This highly efficient triple-glazed window is the perfect alternative to the double-glazed window that uses argon gas between two distinct glass layers to support insulation. On the contrary, in the case of the triple-glazed window, a better insulator krypton is used. Moreover, coatings having low-emissivity are used on the glass for maintaining the temperature in the room.
In recent times, to maintain the balance of the environment, all these above-mentioned energy-efficient green materials are being used by most of the construction companies. These are becoming a good alternative to the traditional materials as these can maintain the carbon emission in nature.